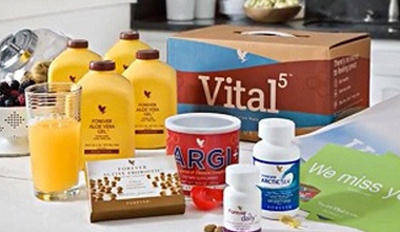 Vital 5 Pack
Pack contains:
4 x Forever Aloe Vera Gel
Pure stabilised aloe vera gel which is as close to the natural plant juice as possible, containing over 200 different compounds. This rich source of nutrients provides the perfect supplement to a balanced diet. Drink to promote a healthy lifestyle and well-being.
1 x Forever Daily
A food supplement designed to deliver 100% of the recommended daily allowance (RDA) of essential vitamins and bio-available minerals and nutrients, Forever Daily combines 55 perfectly-balanced aloe-coated nutrients to support optimal health and vitality each day. Take with the Aloe Vera Gel for best results.
1 x Forever Active Probiotic
Healthy gut flora and normal functioning of the digestive system is the basis for well-being. These easy-to-swallow beadlets contain a unique combination of six beneficial strains of microbes. No refrigeration required, making them easy to take while travelling.
1 x Forever Arctic Sea
The human body needs omega-3 fatty acids but is unable to make them, so this important ingredient should be included in our diet. With its blend of natural fish and calamari oil, Forever Arctic Sea is rich in omega-3 fatty acids.
1 x ARGI+
Keep going all day and deliver optimal performance with ARGI+, which provides five grams of L-Arginine per serving, as well as synergistic vitamins. It is a delicious and nutritious drink that rapidly tops up energy stores and is ideal for high-intensity sport.
If you're interested in buying Forever Living's Vital 5 Pack, just click on the banner and it will take you straight to our official Forever Living shop.