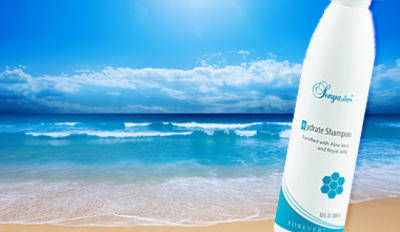 Quench your hair with Sonya Hydrate Shampoo, the perfect start to your hair care routine. This moisture-enriched shampoo has a unique, ultra-hydrating formulation that leaves hair more resilient and energized, with increased body and shine.

Aloe Vera and Royal Jelly help regulate your dry hair's natural moisture balance, leaving it noticeably cleaner, shinier, healthier, and easier to manage. You will love its pleasant scent and your hair will love the added moisture; it's also safe for color-treated hair.

Aloe Vera helps to moisturize and balance the scalp's pH. Royal Jelly also adds moisture, nourishing the scalp to eliminate the dryness that can lead to dandruff. Royal Jelly also contains antioxidants that neutralize free radicals in the hair and aid in the repair of damaged hair.

Other nourishing ingredients in Sonya Hydrate Shampoo include:


Panthenol – this derivative of Vitamin B5 moisturizes the scalp, reduced split ends, and adds shine
PEG-10 Sunflower Glycerides– this derivative of Sunflower oil leaves hair shiny and adds a rich foam for thorough cleansing

Also key to what this formula does have is what it doesn't have. Sonya Hydrate Shampoo cleanses without any parabens, propylene glycol, SLS or SLES.
Looking to buy Forever Living's Sonya Hydrate Shampoo? Click on the banner to go to our official online shop.