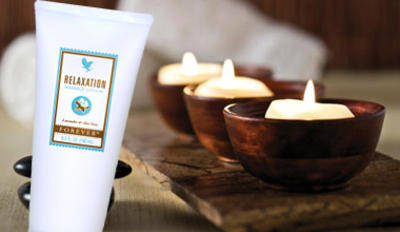 Forever Living Products has combined the soothing, skin-conditioning benefits of aloe vera, essential oils, white tea and fruit extracts to create this emollient, non-greasy massage lotion – ideal for use after bathing with Relaxation Bath Salts or elaxation Shower Gel. We have taken our stabilized aloe vera, renowned for its soothing, moisturizing properties, and added lavender and white tea.
Lavender is the perfect aid to help you relax, while white tea infuses the lotion with an invigorating, fresh scent. Essential oils from the aromatic blossom of the bergamot orange fruit, along with cucumber extract, round out this highly emollient lotion.Forever's Relaxation Massage Lotion is the perfect end to your stressful day.
Looking to buy Forever Living's Relaxation Massage Lotion? Click on the banner to go to our official online shop.