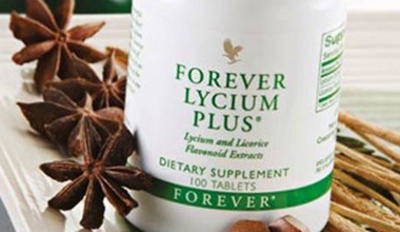 A Chinese fruit used for centuries, lycium has been shown to enhance the complexion and help maintain energy and good vision. Forever Lycium Plus is a dietary supplement containing antioxidants, bioflavonoids and other beneficial phytonutrients.
Lycium is known in China as a "yin tonic," with many traditional uses for maintaining good health. Licorice is considered to be the most widely used herb in China. It is made up of over 150 chemical compounds, which have been shown to have many beneficial effects. Its most frequent use by far is as a complementary herb, with its main function being to bring out the best beneficial effects of other herbs. This makes it an ideal companion for lycium.

Licorice Flavonoid Extract is a concentrated form of licorice bioflavonoids. It is produced according to a process that removes most of the glycyrrhizin, an intensely sweet component of licorice that has been shown to produce undesirable side effects.
Looking to buy Forever Living's Lycium Plus? Click on the banner to go to our official online shop.