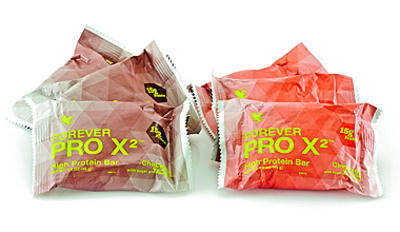 Experts now find that adequate protein intake plays an important role in a healthy weight management program, when combined with a sensible diet and regular exercise. Forever PRO X² Chocolate provides the PRO X² Proprietary Blend of Soy protein isolate and Whey protein isolate and concentrate, along with 2 grams of dietary fibre, in each delicious bar to help build muscle and achieve your weight management goals.

Protein helps to make you feel full, thereby helping to control appetite so you don't overindulge at your next meal or reach for high-calorie, carbohydrate laden snacks. In addition, since lean muscle is more metabolically active than fat tissue, supporting lean body mass through adequate protein consumption can help support metabolism and therefore weight management.

Soy and Whey are high-quality proteins well-researched for their benefits in building and supporting muscle tissues. Designed to provide additional protein to support a healthy weight management program, or for a delicious snack when you are on the go, Forever PRO X² Chocolate provides 15g of high quality protein in a convenient, great-tasting bar.
Looking to buy Forever Living's ProX2 Protein Bars - Chocolate? Click on the banner to go to our official online shop.