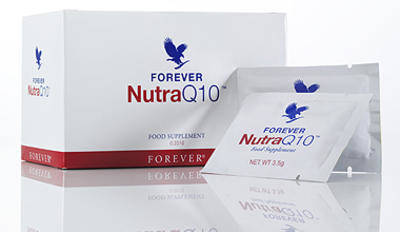 Contains essential vitamins and trace elements, rich in Q10, with vital anti-ageing agents.
Ideal for endurance sports and in combination with ARGI+.
Forever Nutra Q10™ is a special formula, designed to mix with Aloe Vera Gel, to provide nutritional support.
In FOREVER Nutra Q10™ are included important vitamins such B6, B9, B12, also the key vitamins C and E and the trace element chromium.
Forever Living Products (FLP) has combined these important nutrients with an extra large dose of coenzyme Q10. The Q10 was called after its discovery also ubiquinone because it could be found in every cell of the body. This is the ideal anti-stress mineral magnesium, grape seed extract, turmeric and extracts from the leaves of the olive tree. Topped off with a little taste of incense.
The Forever Nutra Q10™ is listed in the Kölner List. The Kölner List takes supplements with minimized risk of doping. Athletes can draw a clear conscience on the Forever Nutra Q10™. Ingredients: Fructose, Magnesium, Soy Lecithin (E322), Vitamin C, Coenzyme Q10, Microcrystalline Cellulose (E460i), Silicon Dioxide (E551), Olive Leaf Extract, Grape Seed Extract, Turmeric Extract, Boswellia Serrata (natural flavour), Vitamin E, Chromium, Vitamin B6, Folic Acid, Vitamin B12. Contents: 30 packets à 3,5g (105 g)
Looking to buy Forever Living's Forever Nutra Q-10? Click on the banner to go to our official online shop.