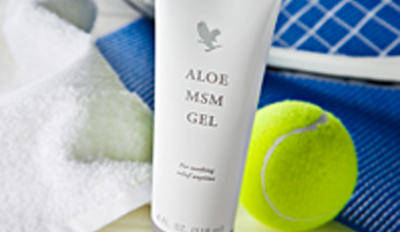 When you're looking for soothing relief, reach for Aloe MSM Gel. MSM stands for Methyl Sulfonyl Methane, an organic sulfur found in almost all living organisms. In fact, sulfur is the third most abundant substance in our body.
The other main ingredient in Aloe MSM Gel is pure, stabilized Aloe Vera. Aloe MSM Gel combines these two powerful ingredients with herbal extracts and other select ingredients for soothing relief anytime. Try Aloe MSM Gel today!
Acute & Chronic - swelling, joint pain, sore muscles, tendonitis, bursitis, over-use injuries. Can also help with pain and stiffness from old injuries.
Treatment: Apply liberally to the affected area and massage well into the skin. Repeat at least three times per day.
Looking to buy Forever Living's Aloe MSM Gel? Click on the banner to go to our official online shop.